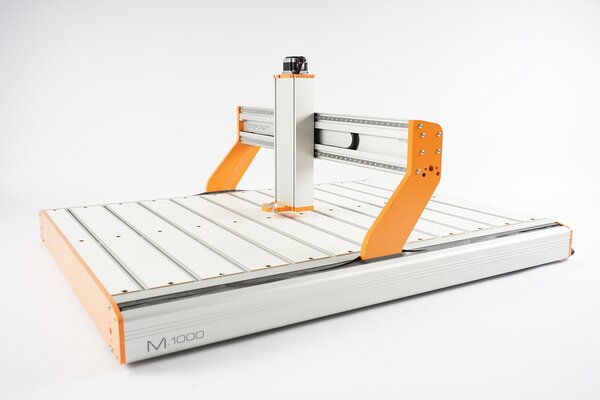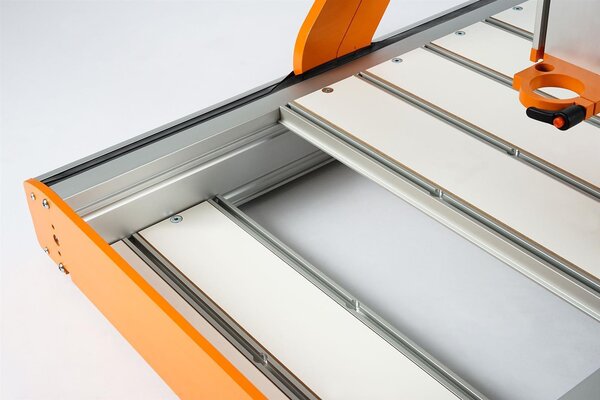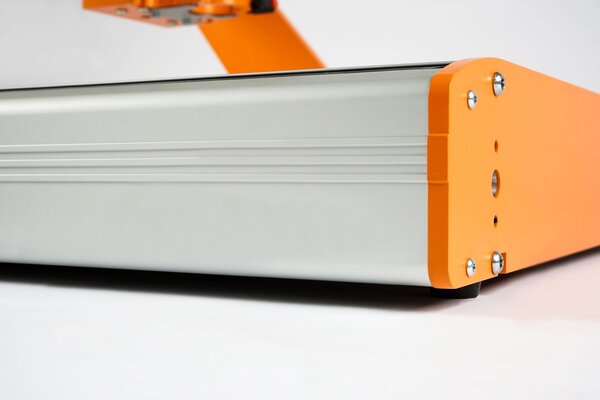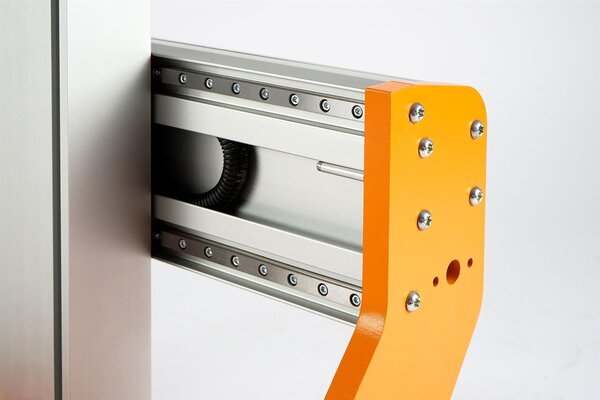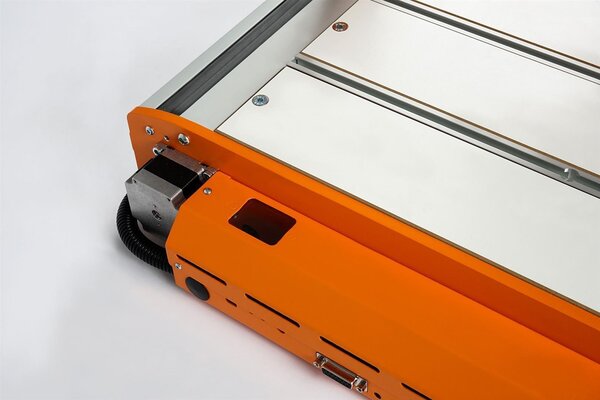 Stepcraft M1000 construction kit
STEP11629
Stepcraft M1000 selvbyggersett CNC fres.
More than a standard CNC machine! From Freestyle MillingTM to two different machine table heights, the STEPCRAFT M-Series offers features never seen before. This makes the STEPCRAFTM-Series the most mobile and versatile CNC router in the world.
With the STEPCRAFT M-Series you can easily process floors, large sheet material or even existing furniture. As all the STEPCRAFT D-Series CNC tools are compatible with the STEPCRAFT M-Series as well, you can set your creativity free and use your CNC router for milling, laser engraving, cutting, 3D printing or engraving. Thus, the STEPCRAFT M-Series is perfectly suited for the use in workshops, schools or production halls.
Thanks to the multitude of available tools, you can processs a variety of different materials on your STEPCRAFT M-Series:
Wood: Softwood, Hardwood, plywood, laminated wood
Plastics: Thermoplastics, ABS, PE, PP, soft / hard PVC, Lexan®, polyamid, Plexiglas®
Carbon
Non-ferrous metals
Elastomers, thermosets
Mixed materials
All included! Together with the manual and the enclosed Wera tool set incl. a torque screwdriver, the assembly of your CNC router will only take you a couple of hours. Numerous illustrations and video support will help you assembling your CNC construction kit in only a few hours. The CNC kit will not only save you money but teach you every single screw of your STEPCRAFT M-Series as well. This allows you to later perform maintenance works and adjustments on your own.

FORDELER MED STEPCRAFT:
Supplied with all components necessary for operation (Tools, such as milling motor, 3D print head etc. are NOT included in the scope of delivery and have to be ordered separately!)
Integrated modular control electronics for an easy connection to the computer via USB interface resp. via optional parallel or optional Ethernet RJ45 interface
MDF machine table with aluminum T-slots resp. optional aluminum T-slot table
Two different machine table heights
Bosch Rexroth ball bearing guide
igus® dryspin threaded lead screws with double lead screw nuts adjustable to each other resp. optional HIWIN® ball screws
Flexi GuidesTM to securely guide cables and tubes
Powerful motors Nema 23
In-house development of STEPCRAFT aluminum profiles with innovative high rigidity X-profile (registered utility model)
Standard Ø 43 mm tool holder enables the use of third-party devices (if necessary with adapter)
Completely removable machine table
Freestyle MillingTM with optional vacuum panels (registered utility model)
Made in Germany
3 years manufacturer's warranty
Overall Size (X,Y,Z): 913 x 1226 x 646 mm
Working Space (X,Y,Z): 679 x 1044 x 194 mm
Clamping Surface (X,Y): 843 x 1150 mm
Backlash: < 0.05 mm (with optional HIWIN® ball screws: < 0.03 mm)

Innhold i levering:
Complete CNC DIY kit including all mechanical and electronic components
3x Flexi GuidesTM
WERA tool set
Operating manual
Detailed assembly manual
Engelsk manual
OBS: Fresemotor må velges separat.

Nødvendig verktøy for montering:
WERA Tool Set (included in Construction Kit)
Spanner 5.5 mm
Wire cutter
Long-nose pliers
Cutter knife
Slide gauge
Sewing machine oil and grease
SYSTEM BEHOV:
PC with 1.6 GHz processor
USB interface
Windows® XP, 7, 8, 10 (32/64 bit)
MAC OS X 10.3.9 or higher with Windows® Emulation
Ved kjøp hos oss tilbyr vi 2 timer gratis konsulent hjelp av vår norske CNC ekspert. Kan benyttes til hjelp ved montering, oppstart eller annet.
| | |
| --- | --- |
| Forventet levering | 06.02.2023 |
| Bredde | 913 mm |
| Høyde | 646 mm |
| Lengde | 1226 mm |
| Merke | Stepcraft |